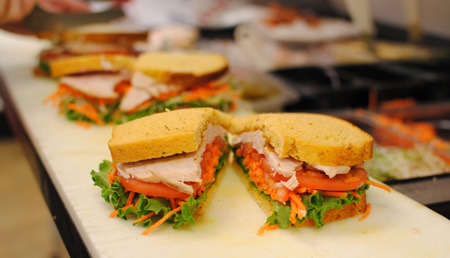 Food made from-scratch with fresh, local and natural ingredients.
Wild Oats is a locally-owned, from-scratch bakery, deli and cafe in the heart of Brunswick's downtown. We are located at the Tontine Mall - and an easy walk from Bowdoin College.
All of our food is made by hand and from-scratch by a group of 20-plus devoted chefs and support staff and we promise that we always look for the most all-natural and fresh ingredients possible, that customer service and high-quality products are our top priorities, and that social and environmental responsibility are at the very center of everything we do.
Check out our menus for more information about our large variety of deli salads, homemade soups, loaf breads, cakes, cookies and desserts, muffins and so much more!
We pride ourselves on an open culture with a focus on delicious and homemade food. If you are not happy with your Wild Oats experience, we want to hear about it!
To learn more about our history and our culture, check out Our Story.
*Click HERE for more information about the photographs on this website!